CLOUD presented by Primavera Plaza & Partners
Caitlind r.c. Brown & Wayne Garrett
Presented by: PRIMAVERA Development, PCL, Jackson Noble Mechanical, LAPC Drywall Ltd, Metala-Con, Alberta Glass, ECCOM, Gerdau, Hodgson Schilf Evans Architects Inc, Kels Electrical, MCW Hemisphere Ltd, Read Jones Christoffersen Ltd & York Masonry
From Russia, to the Czech Republic, Israel, the Netherlands, Singapore, and Portugal, Primavera Developments and Partners bring us CLOUD. Drawing from cartoon aesthetics and the vast Alberta skies, artists Caitlind r.c. Brown and Wayne Garrett constructed CLOUD from 6000 incandescent light bulbs. People are necessary to complete the piece. By standing beneath the raincloud, pulling its chains, viewers cause lightning to flicker on the surface of the sculpture, unwittingly staging an electrical storm for the audience beyond the periphery of the rainfall. The real magic of CLOUD lies in her value as an icon of hope, optimism, and collective action, epitomized by viewers standing together beneath the sculpture, staring upwards with glittering eyes and spontaneous smiles, enthusiastically tugging at pull-chains. A Canadian ambassador in Moscow called CLOUD "a happiness machine."
Artist Bios
Caitlind r.c. Brown & Wayne Garrett (Calgary, Canada) work with diverse mediums and materials, ranging from artificial light to re-appropriated urban debris, often resulting in public sculptures and installations. Beckoning viewers with interactive contexts and novel materials, their projects invite strangers to share in experiential moments, prompting collaborative viewership. Using mass-produced objects as a reference to cities as an immeasurable quantity of materials, people, and situations, Caitlind & Wayne evoke the possibility of renewed understanding through a critical shift in perspective. Beautiful, subversive, playful, and radically inclusive, their work emphasizes transformation above all else.
Caitlind & Wayne have been collaborating since 2011 after working together through the Arbour Lake Sghool collective. Wayne trained as a musician at Mount Royal University and a machinist at Southern Alberta Institute of Technology. Caitlind graduated from the Drawing Program at Alberta College of Art + Design. Their collaborative artworks have appeared at Garage Museum of Contemporary Art (Moscow, Russia), Japan Alps Art Festival (Omachi, Japan), Weisman Art Museum (Minneapolis, USA), Pera Museum (Istanbul, Turkey), the National Arts Centre (Ottawa, Canada), and others. In 2013, CLOUD was short-listed for an Innovation by Design Award by Fast Company. In 2016, the duo won Winter Stations Design Competition in collaboration with Lane Shordee (Toronto, Canada). They are currently working on their first public artworks in Calgary, Edmonton, and Toronto. Read more here and here.
When working independently, Wayne is a musician and composer; Caitlind is a co-founder and co-curator of WRECK CITY curatorial collective.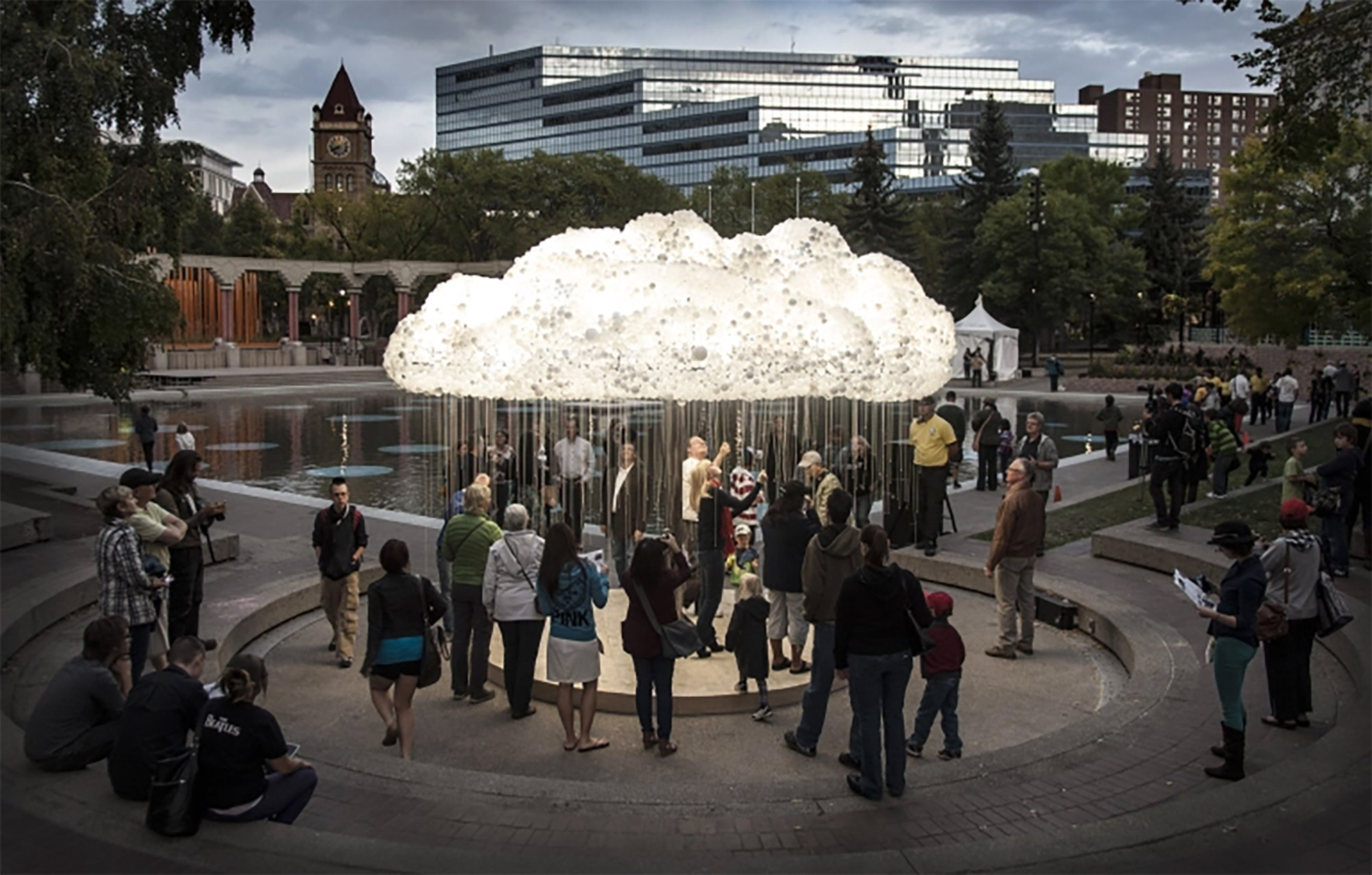 Presented by: